The Illuminati Card Game was originally released in 1982 by an occultist named Steve Jackson.
To play, you control a secret society and compete with other puppet masters to control the world.

Starting with a deck of 110 cards in the early '80s…

Steve Jackson Games started releasing expansion packs throughout the '80s and '90s.

These included Illuminati Brainwash, Illuminati Mutual Assured Distraction, Illuminati Bavarian Fire Drill, and Illuminati Y2K.

The game became so popular it received numerous awards, including being named the best science-fiction board game.

With each expansion set, Jackson was adding to the mystery of the game…

And, many believed, he was also revealing further the plans of the real Illuminati.
The rubber really hit the road on this theory after the 1994 release of Illuminati: New World Order.

INWO had a whopping 412 cards…

And, as time passed, people began to notice something strange…

Many of the cards seemed to fit spot-on with world events.
According to "insiders," in order to bypass Natural Law, the Cabal has to reveal their plans before they carry them out.

They do this in Hollywood movies… and, many believe, through this game.

It's more than a game, they say. It's a puzzle.

And, if you figure it out, it will reveal the future…

Looking at where we're at… the string of cards below are pretty spooky.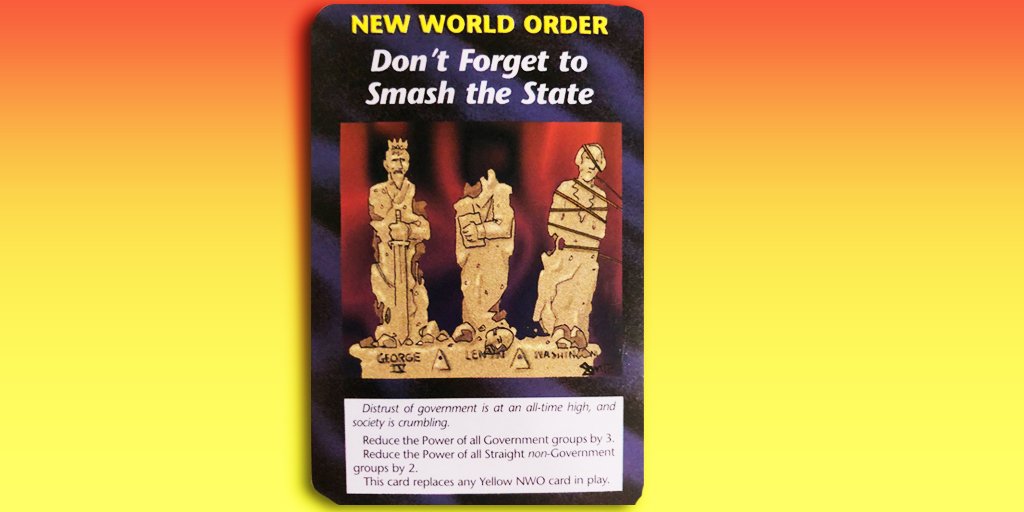 Unfortunately, according to the game…
There are a lot of cards.

Some of the connections are a stretch.

And other connections are pretty freaky.
The Realities Watch blog says:
"The Terrorism Attacks, Barack Obama, Tsunami, Oil Spill, Music Industry and more are kind of related or familiar to the cards from the game. The cards were all distributed on 1994, what creeps other people is that the other cards might come true such as the Flesh Eating Disease, World War III emerging, End of the World and more. Is this a case of coincidence or is it a warning for everyone?"
Here's a short-list of the more popular predictions (a couple of which, apparently, haven't happened yet).
9/11 TERROR ATTACK
PRINCESS "DI"
BARACK OBAMA BACKLASH
LADY GAGA & MKULTRA
THE OIL SPILL DISASTER
PENTAGON ATTACK
EARTHQUAKE IN JAPAN & FUKUSHIMA
NATIONALIZATION
STAY DEAD JULIAN ASSANGE
What a timeline we live in.

And it ain't over yet.

As the old saying goes…

When the going gets weird, the…